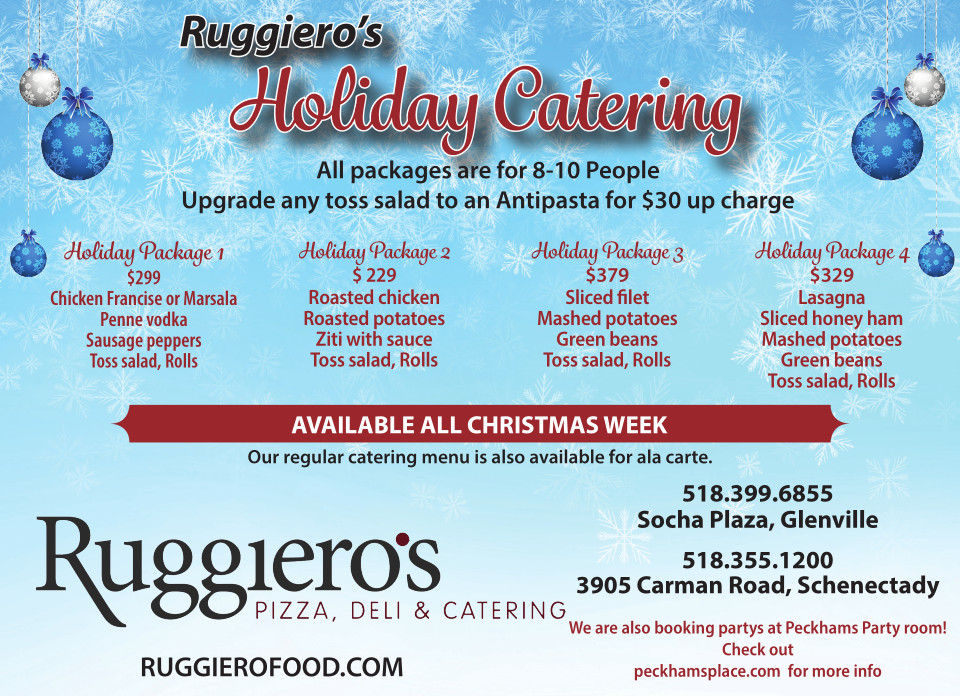 Our Tradition
Catering service for the Albany, NY region
Since 1989, Ruggiero's Pizza, Deli & Catering has been family-owned-and-operated, providing classic Italian dishes and specialties made from the freshest and finest ingredients. Due to many happy customers throughout the Albany, NY area, we were able to expand and open up a second location in Guilderland. We are proud to maintain a successful catering business for both our original Socha Plaza location and second location. For more than two decades, we've been providing an extensive lunch, dinner, and catering menu

Corporate Events
Ruggiero's catering will remove the stress from planning corporate events.  Let us know how we can help you succeed

Event Planning
Planning events is never an easy task.  Our experienced planners can help with holidays, lunches, dinners, weddings, and more.

Wedding Meals
It is your special day and will require a special meal.  We can help cater to any size wedding reception.

Bar Service
Bartenders or mixologist, our event staff is equipped to serve up the latest in cosmos or craft beer

Event Staffing
Do you need professional staffing? Let our trained professionals help with your next event

Drop Off Catering
You will get fantastic service with our event drop-off orders, friendly, professional and accommodating to all customers

"The staff from Ruggiero's and Pinehaven Country Club catered the grand opening of my fitness studio and what a success! Food was phenomenal and the staff and service they provided was second-to-none. A big thank you to all staff for making the event effortless."
"We held my sister's baby shower two weekends ago at Pinehaven Country Club. The food prepared by Ruggiero's was amazing! The venue was great, and the staff was beyond helpful. Everything was exactly the way we wanted it. Thank you for going above and beyond what was expected."
"Left my wallet on the counter of the Guilderland location on a Saturday night. Someone from the location brought the wallet to my house on Sunday when the business was actually closed. On top of that the Italian mix sub I bought was excellent. Thank you Ruggierio's."
Socha Plaza
123 Saratoga Road
Glenville, NY 12302
Phone: 518-399-6855
3905 Carman Road
Guilderland, NY 12303
Phone: 518-355-1200
Contact Us
* This form is meant to submit questions or comments to Ruggiero; For food ordering please use the "Order Online" links above.